---
---
We would like to thank Robert Weirich for his insightful commentary regarding his latest book, Recollections: A Pianist's Essays on Teaching, Performing, and Living. Order Recollections: A Pianist's Essays on Teaching, Performing, and Living, by Robert Weirich NOW and enjoy a 20% off launch discount. Use code WEIRICHLAUNCH20 at checkout. Learn more and purchase here: https://pianoinspires.com/recollections-by-robert-weirich/.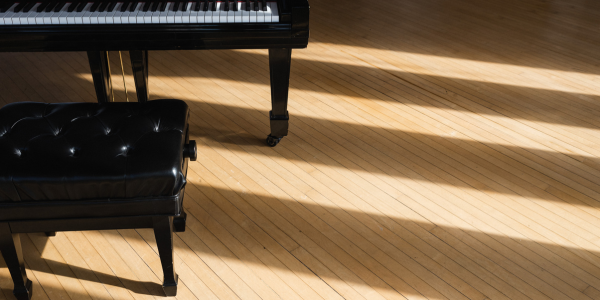 I guess you could say that my pandemic project was to go back through my writings for Clavier and other journals and see if there was a viable book in there waiting to surface. I had two fears—first, that the subject matter would seem dated and no longer of interest to musicians of the twenty-first century. After all, I started "The View from the Second Floor" in 1984—yikes, that was almost forty years ago! And that leads to the second fear—no one will remember these writings that, in their time, led many readers to say they turned to this column first when the magazine arrived. But in 2021, when MTNA president Martha Hilley introduced me via Zoom to introduce convention artist Awadagin Pratt (a former student), she said exactly that, citing chapter and verse. She also admitted that she kept boxes of the old magazines just to occasionally revisit a piece she liked.
Done! I think I started the project the next day.
Happily, I found that the subject matter held up, since most often I was writing about the constants of artistry and learning, values that don't change. I ended up choosing ninety-one essays written between 1981 and 2016 and arranged them by subject matter into fifteen large sections. There is new writing as well, often giving background on what inspired the essay in the first place. Some of the essays did not appear in Clavier. One I particularly like is called "Zen and the Art of Piano Study" which appears in a section called "Foundations." The sixteenth section is also new, entitled "The Next Chapter," and takes a stab at considering the future of our profession. To my amazement, the book clocks in at 394 pages. Happily, it can be read in short bursts.
As for readers remembering me, well, perhaps that is the price of living into my seventies while most of the profession is a generation or two younger! I realize I am no longer the youngest teacher out there, but some of the ideas posited in my writing urged change and questioned tradition, and those questions remain. An underlying theme in the book constantly asks is what we do relevant, is a life at the piano sustainable for anyone who is not a superstar performer? Since most of us don't qualify as globe-trotting virtuosi, I think the book has more than a little pertinence to those entering college music study, those beginning careers, and those wondering twenty years later what they've been doing. When I wrote the columns, these were the readers I imagined. I'm very happy to have all the columns available in one place, thanks to the Frances Clark Center's publication of Recollections: A Pianist's Essays on Teaching, Performing, and Living.
I conclude with an excerpt from the foreword to the book, written by Mark Wait, pianist and dean emeritus of the Blair School of Music at Vanderbilt University. For this blog I was asked to say what the book is about. Mark's foreword does it better than I can:
"The book you are holding could be called The Making of a Musician's Life. It is an inspiring memoir, a musical and intellectual autobiography. Here we find themes we will all recognize–the importance of various teachers over a lifetime of learning, encounters and events (planned or not) that change our lives. Many of us will be especially grateful to Weirich for his loving attention to his earliest teachers.
"But this book is much more than a memoir or a collection, for it recounts the changing musical and cultural landscape of the past half-century. Weirich has a broad vision, and he casts a wide net. We hear his thoughts, always carefully considered and often provocative, on artistic and educational values, and the place of the arts in our society.
"In all of these issues, Weirich holds up a mirror to our cultural institutions. And to himself, for some of his views and opinions have changed during his fascinating and multi-faceted career. We share his struggles as he considers the future of an art form to which he has dedicated his life."
Join the Frances Clark Center to celebrate the launch of our newest book, Recollections: A Pianist's Essays on Teaching, Performing, and Living by Robert Weirich. This Zoom event will be held on Wednesday, November 15, 2023 from 11:00 AM to 12:00 PM Eastern Time. Party host Chris Madden will introduce author Robert Weirich. Time to mingle with the author and fellow pianists and teachers will follow. Free registration, RSVP today: https://pianoinspires.com/event/publications-launch-party-recollections-by-robert-weirich/.
MORE ON ROBERT WEIRICH
Not yet a subscriber? Join for only $7.99/mo or $36/yr.
---