---
---
We are pleased to share this conversation with Olga Kern about her vibrant career and mission as a musician, written by Sara Ernst. This conversation originally appeared in the Summer 2023 issue of Piano Magazine. If you would like to explore other articles from Piano Magazine, please subscribe now for only $7.99/mo or $36/yr.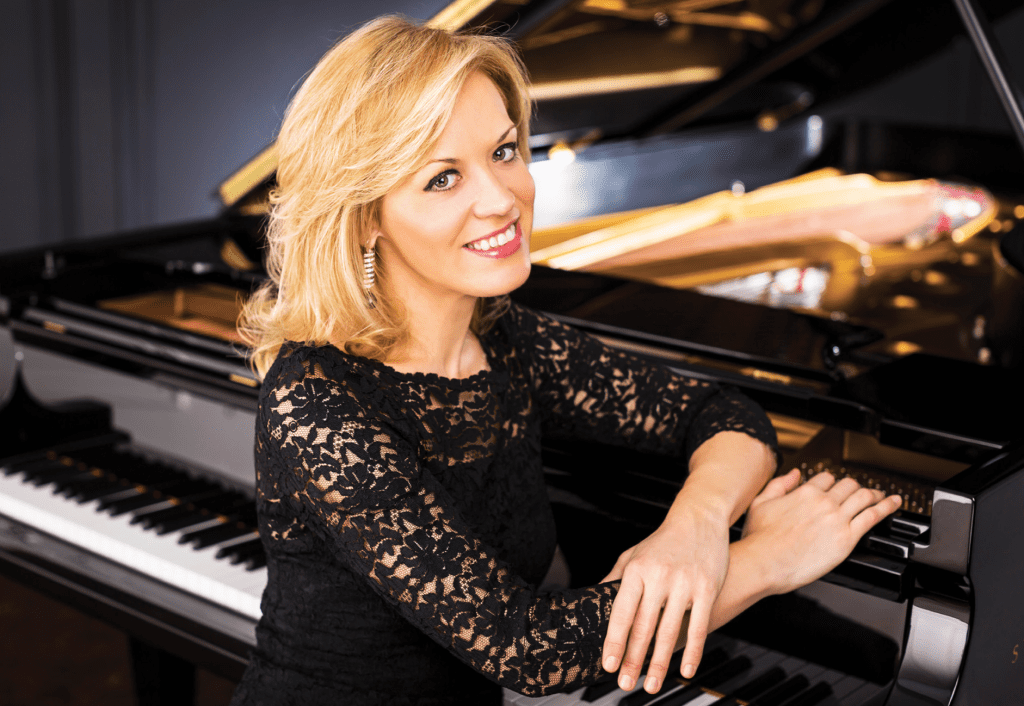 Concert pianist Olga Kern has been a regular presence on the international stage since her winning of the Eleventh Cliburn International Piano Competition in 2001,1 and she will be welcomed as concert artist at NCKP: The Piano Conference on July 26–29, 2023, in Lombard, Illinois. Artistic intensity, passionate expression, and technical prowess pervade her playing. At the Cliburn, this resulted in multiple standing ovations and an affect tagged "Olgamania" by newspapers in Dallas/Fort Worth. Her jubilant acceptance of this award followed four intense rounds of competition, which featured her memorable performances of the Brahms Variations on a Theme by Paganini, Barber Sonata for Piano, and Rachmaninoff Concerto No. 3.
In the two decades since her catapult into the highest strata of the profession, Kern has navigated a rigorous schedule, maintaining a fervent commitment to concertizing. When I had the pleasure of speaking with Kern in a phone interview on November 22, 2022, she expressed her gratitude in being a pianist: "It's a pure joy. Every time I'm on stage, it just gives me happiness. When I finish, I know that I shared what I love so much. They [the audience] have the same response; they are so enthusiastic, they're so happy. I'm so lucky to have this profession; I love it."
A notable feature of Kern's performances is her immediate engagement with the audience—her sparkling eyes meet the crowd as she greets them with an infectious smile. It is remarkable how this effusive energy reached me through the phone. She projects herself as an individual who has found a powerful purpose in her vocation, and this gives her a boundless zeal, determination, and optimism in the future. When I asked her about this disposition, she expressed a more sanguine approach to life as a musician:
Being an artist and musician, there are always doubts about everything—it's normal for all of us. While we have these jobs, we are growing and learning how we can do better, all of our lives. We need to stay positive. Life is very difficult, especially knowing what's happening right now in the world…I want to express myself through music in a way that is always a positive experience. Because the audience—either listening to me or talking to me afterwards—needs to feel a good energy.
Furthermore, she shared her deeply held belief in the power of music to heal. Kern explained to me how she was inspired by a pianist in the Cliburn International Amateur Competition who was fighting a rare disease and how he used music to delay the progress of the disease. She also described correspondence from a faithful audience member who declared the healing effects of her performances. Kern furthered her philosophical statement: "This is what music does, it heals our souls…I understand how important and how positive music actually is for all of us, and that's why it just feels natural to be positive."
It is probably not surprising to music lovers, but truly remarkable how her energy continues to be drawn from the artform itself. She admitted to me that her demanding schedule is sustained by her love of playing: "When I'm just spending time with my instrument by myself, that's my happiest time." She furthered this by stating her focus is purely expressive, which I believe is a product of her engrained technical command. Kern said, "It is so natural somehow, for me, that I am not thinking about difficulties anymore. I think about ideas, what I want to achieve with the whole thing, as an interpretation." It begs the question of how she became such a masterful pianist. Her response was surprisingly simple, that her passion for the instrument "explains everything." Certainly, this is not to underestimate the decades devoted to growth and practice. It is clear what fuels Kern, and piano is intertwined with her identity: "I was at the piano, mostly all my life. How I remember myself was at the piano, from five years old."
While Olga Kern has Russian heritage, she also has become a US citizen, residing currently in New York City. In 2017, she received the Ellis Island Medal of Honor, which celebrates Americans, naturalized and native-born, "who are selflessly working for the betterment of our country."2 Recipients include past presidents, religious figures, business leaders, and Nobel Prize laureates. Kern attended the ceremony, which featured fireworks next to the Statue of Liberty, on the arm of her son Vladislav. Upon receipt of this commendation, she wrote: "The U.S.A. is my beloved adopted country and I will continue to make this country proud!"3 With last year's outbreak of the war in Ukraine with Russia, Kern released a statement denouncing war:
As a classical music pianist and artist, I embrace beauty. I seek to share with audiences the powerful emotions that make music so magical, and I try to make people feel that beauty and be part of it…Such a mindset is entirely incompatible with any form of aggression or violence. And even more so with the horrors of war…. It's heartbreaking to witness the tragedy that is unfolding before our very eyes in Ukraine. It's ugly and brutal beyond words…Please stop this madness! Please say NO to war!4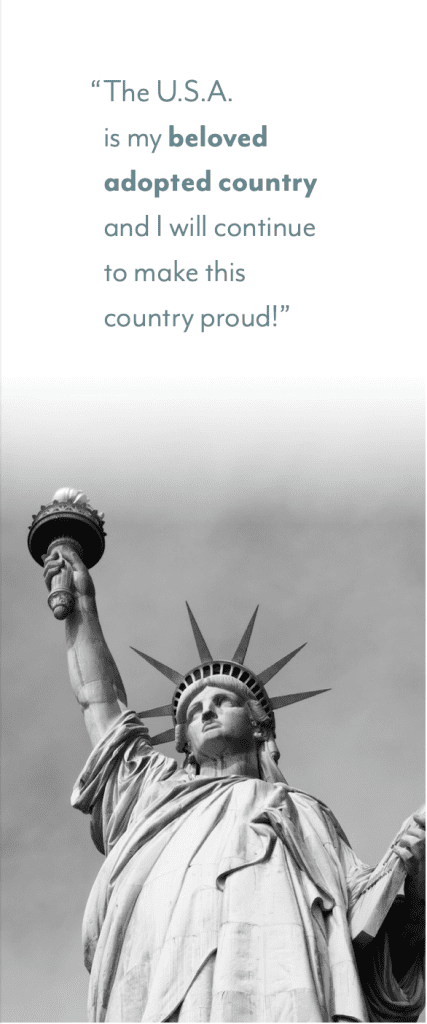 Her eloquent appeal also reflects the precarious situation of Russians, many of whom, like her, have strong ties to Ukraine—the world is witnessing a war at the hands of a dangerous dictator who shows little signs of yielding.
Kern was born in Russia under the name of Pushechnikova into a profoundly musical household. Her mother, father, and brother all played piano—her mother a piano teacher and father a pianist in the Bolshoi Theater Orchestra. Her grandfather was a prominent professor of oboe at the Gnessin School of Music.5 Her great-grandmother was an opera singer at the Kharkiv Opera and had the honor of singing with Rachmaninoff at the piano. Kern's musical lineage extends deeper: her great-great grandmother was also a music teacher and friend of Tchaikovsky, which is documented through letters and photographs. In the documentary that showcases the 2001 Cliburn Competition,6 Kern shares her grandmother's first edition of Rachmaninoff's third concerto she was soon to perform. The camera captures a touching moment of tender pride, as she carefully pages through this timeworn, but prized possession.
As a young pianist, Kern heard two remarkable recitals in Moscow: Vladmir Horowitz in the historically significant 1986 concert, and Sviatoslav Richter in one of his impromptu, candlelight recitals. She formerly described these two experiences:
"I will never forget [Horowitz's] concert. That sound range, what he was doing with that piano… what the gradations were, what the colors were. I'll never forget the fortissimo he made; it was so warm and nice. It was just all over each of us, and it was a full hall; people were just hanging out of the balcony…[Richter] played the Brahms Paganini Variations. When he started I thought that my hair was blown, just like a huge hurricane came and made everyone suddenly alive. That kind of sound, incredible sensibility, and ability to do anything on the piano. Those geniuses for me were really inspiring."7
Her mother, who initially encouraged her study of Russian ballet, was her first piano teacher; Kern exclaimed that from two or three years old, she knew that piano (not ballet!) was her life's calling.8 At the Central Music School in Moscow, young Olga studied with highly regarded pedagogue Evgeny Timakin, known for his exercises that develop a comprehensive technical foundation. Her later training was with Sergei Dorensky at the Moscow Conservatory and Boris Petrushansky in Imola, Italy.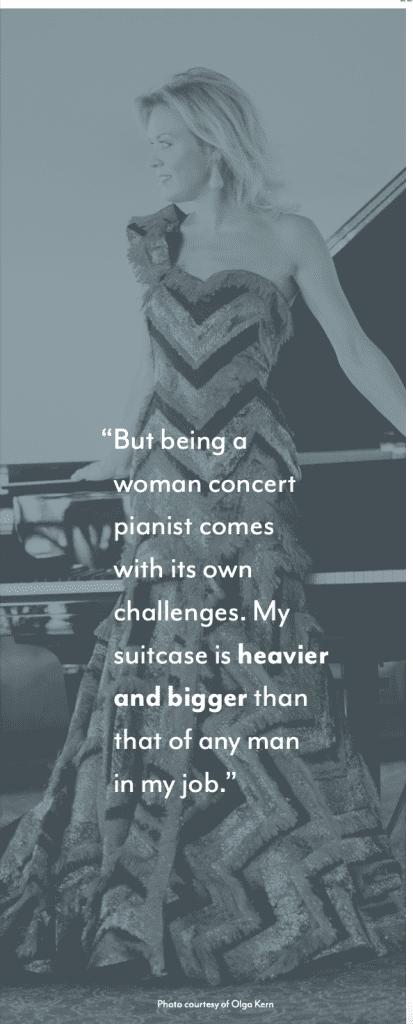 Kern's first win in the competition circuit was at age 11, followed by the Rachmaninoff International Piano Competition at age 17; in total, she placed in the top rankings at more than ten competitions. In the Cliburn Competition of 1997, Kern appeared as Olga Pushechnikova, although she did not advance past the preliminary round. In our interview, Kern reflected on the importance of competing, especially the motivation found with undesirable results. One can only imagine that she draws upon her own experience when she encourages her students:
They need to compete, and it's not always the right result for them. I always tell them not to be depressed, just to go forward and learn. It's that attitude—you are actually getting stronger. From that experience, they know what they can do better. It's just part of your life, and without bumps, you will not get higher and better. If everything will be perfect, then there will be no stimulation to do better. You need to really go down sometimes to feel that: No, I want to do something so special that people will hear about me, I am that talented, and that's how much I love music. These moments, they're actually great… they're the super exciting moments in your life.
In the years between Cliburn appearances, life changed for the newly named Olga Kern (using her mother's maiden name), now with son Vladislav; her toddler remained in Russia in the loving care of her parents while she travelled to Texas, to return with a gold medal in hand.
Kern's career continues to be filled with an intense schedule of performances and appearances. As many women musicians have faced, performing reviews include discussion of her appearance, attire and beauty, with one writer even making an astoundingly shocking conclusion that her pianistic ability makes gender "irrelevant."9 Nevertheless, Kern proceeds with lighthearted grace and personal style, deflecting questions about gender back to the artform and by collaborating with fashion designers to craft her wardrobe. In 2016, she reflected, "Whilst I was at the school and the conservatory, it was not about being a man or a woman that fed my love for the instrument… If you love what you do, everything is equal."10 She then quipped that the only difficulty results from the performance gowns: "But being a woman concert pianist comes with its own challenges. My suitcase is heavier and bigger than that of any man in my job."
Today, her career is multi-faceted and includes teacher, collaborator, adjudicator, director, and philanthropist. In 2016, she became the Artistic Director of the triennial Olga Kern International Piano Competition in New Mexico, in 2017 she joined the piano faculty at the Manhattan School of Music, and in 2019 she began directing chamber music for the Virginia Arts Festival. Her artistic collaborations have included concerts with conductor Leonard Slatkin and singer Renée Fleming. Her most recent CD release, in 2022, was of the Brahms and Shostakovich quintets with the Dalí quartet. More performances are planned with this string quartet, including the quintet by Rachmaninoff's teacher Sergei Taneyev. Additionally in 2023, Kern will undertake the Herculean task of performing Rachmaninoff's four piano concerti and Rhapsody on a Theme of Paganini. She will perform all five works in two evenings at many venues, a project she initially tackled in South Africa with her brother Vladimir as conductor. She was inspired to revisit this as a celebration of Rachmaninoff, 150 years since his birth and eighty since his death.
She has acknowledged in the past how it was initially difficult to find the ideal balance in her life between performing, traveling, and her family. Reflecting on her post-Cliburn engagements, she summarized:
If you don't have the balance, this busy travel and concert life can really wear you out very quickly…[After Cliburn,] I was just teaching myself and learning how I can do it correctly. I must say it took me a couple of years…It was hard [but] right now, it's so much easier for me. People around me saying, "Wow, you're so organized! You know exactly what hour you need to do practice, rest, interviews, emails."… Of course, it's never enough time in one day!11
For her, balance of career and family is essential, professing in 2009: "Without playing the piano I cannot live, and without my family I cannot live."12 Kern's son Vladislav is also a pianist, and Olga insists that his desire came from within himself. As a child, he even requested to study at the same schools as she. Vladislav is also one of her musical collaborators, as far back as 2008. In that year, the fiftieth anniversary of Van Cliburn's win at the Tchaikovsky Competition, mother and son attended the celebratory event and performed. Olga reminisced in 2012 about this special moment:
"My son was eight and a half at the time. We did several pieces by Ravel, Mother Goose Suite, and Rachmaninoff's Italian Polka. Van Cliburn did not know what we were going to do, it was a surprise. And when we started playing Ravel, he burst into tears, the tears of joy. It turned out that when he was small, he played this music with his mother.13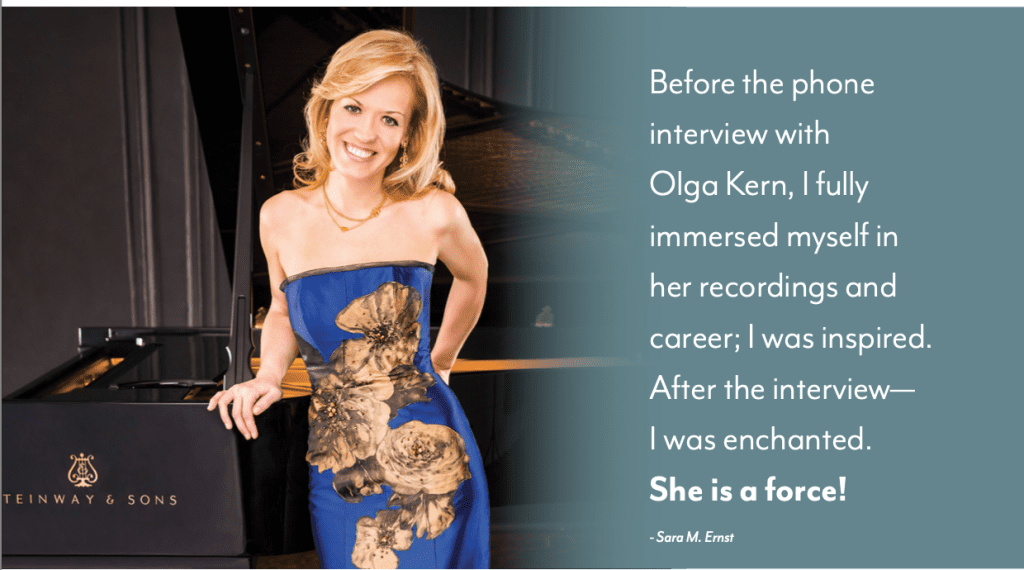 Vladislav is now an advanced pianist studying at Juilliard School of Music, and mother and son have recently performed Mozart's Concerto for Two Pianos.
Since joining the faculty of the Manhattan School of Music in 2017, she has taught a small studio of pianists. Along with the rest of the profession, Kern moved her teaching online during the COVID pandemic. Her sentiments about teaching online have been echoed by others: "It was not that easy, but I was happy that I actually found out that I could do it! And then, my students were actually growing and doing things better." Reflective of her affirming spirit, she summarized the era of online lessons as a "special part of our lives." Her social media feeds include numerous snapshots into her studio, and these video clips reveal a teacher committed to constructive artistic development. Following the model of her teachers, she believes:
It's not just a specific hour I need to spend with them, but I just need to give them all the attention they need. And everyone's different, you know, so you really need to feel their personalities, feel what their fears are, what we really need to do to make them excited about practicing, about working.
Her desire to mentor the next generation—often referred to as her "children"—is palpable. At one point during our interview, she pridefully listed the accomplishments of her students and winners of her competition. In addition, the Kern Foundation "Aspiration" (founded with her brother Vladimir Kern) is another avenue through which she supports upcoming pianists.
The principle of balancing priorities is even significant to her in practice, an approach she instills in her students. Kern referenced Rachmaninoff and his efficient practice schedule of often two hours or less a day. She described how important it is to have structured goals, and how to avoid multiple run-throughs and excessive repetition of difficult sections, both of which stave off fatigue and injury. When I asked her to expand on how to maintain a healthy technique, she responded with important fundamental principles:
For me the very important thing is how you sit at the piano, how you distribute the weight of your body. Because a lot of times I see how young pianists are just using their hands only. This is really wrong, because then of course they will have difficulties, the hands will be tired. First of all, they don't ever achieve a big, warm sound; it will not happen because they are not using their body. Body weight is so important, and when you are using it together with your hands, everything becomes totally different. Because first of all, you are more relaxed, you are not working that hard, and then you're producing much bigger sound. At the same time, even if you are playing soft, soft, soft, you also need to use your body weight. It's not just the finger, you know.
When she guides her students through practice, she focuses on using the mind, breaking down large works into smaller learning goals, and striving for specific sound goals. The practice encouragement she provides her students is simple yet important in our modern world: "It's just your own time without phones, computers, pure and innocent, just you and your music."
Before the phone interview with Olga Kern, I fully immersed myself in her recordings and career; I was inspired. After the interview—I was enchanted. She is a force! Her infectious zest for piano motivated me and filled me with gratitude. She is a model of how to learn and grow as a pianist, nurture the potential within oneself, relish the artform for its rejuvenating capabilities, while also championing and supporting those around you. I am waiting with bated breath to hear her solo recital at NCKP 2023.
Sources
1 Stanislav Ioudenitch from Ukraine was a co-winner of the Eleventh Cliburn International Competition in 2001.
2 "Medals of Honor," Ellis Island Honors Society, accessed January 6, 2023, eihonors.org/medalists.
3 Olga Kern, Facebook post, May 16, 2017. Image taken from Facebook post, July 4, 2019.
4 "A Statement from Olga Kern," Delos Productions, March 7, 2022, accessed December 8, 2022, delosmusic.com/a-statement- from-olga-kern/.
5 The family lineage of names is the grandfather Ivan Pushechnikov, the great-grandmother Vera Fedorovna Pushechnikova, and the great-great-grandmother Pelageya Safronovna Pushechnikova.
6  Peter Rosen, producer, The Cliburn: Playing on the Edge, PBS broadcast KERA/PBS (Fort Worth, Texas: Van Cliburn Foundation and Peter Rosen Productions, 2001), vimeo.com/519214432, accessed November 17, 2022.
7 Musicale, Interview with Olga Kern, February 18, 2022, youtu.be/_NOV54yfeUI.
8 Ibid.
9  Gil French, "Four Years after Cliburn," American Record Guide (Washington, United States: Record Guide Publications, August 2005):
10 Robyn Sassen, "Interview with Russian Pianist, Olga Kern, for the JMS," February 17, 2016, obynsassenmyview.com/2016/02/17/olga-kern-and-the-love-for-music-that-stays/.
11 Musicale, Interview with Olga Kern, February 18, 2022, youtu.be/_NOV54yfeUI.
12 Ann M. Gipson, "From Russia to America: An Interview with Olga Kern," American Music Teacher. Vol. 58, No. 4 (February 2009): 21.
13 Tatyana Borodina, "Interview with Olga Kern, New York," Elegant New York (blog), May 8, 2012, accessed December 8, 2022, elegantnewyork.com/interview-with-olga-kern-gold-medal- winner-of-van-cliburn-international-piano-competition/.
---