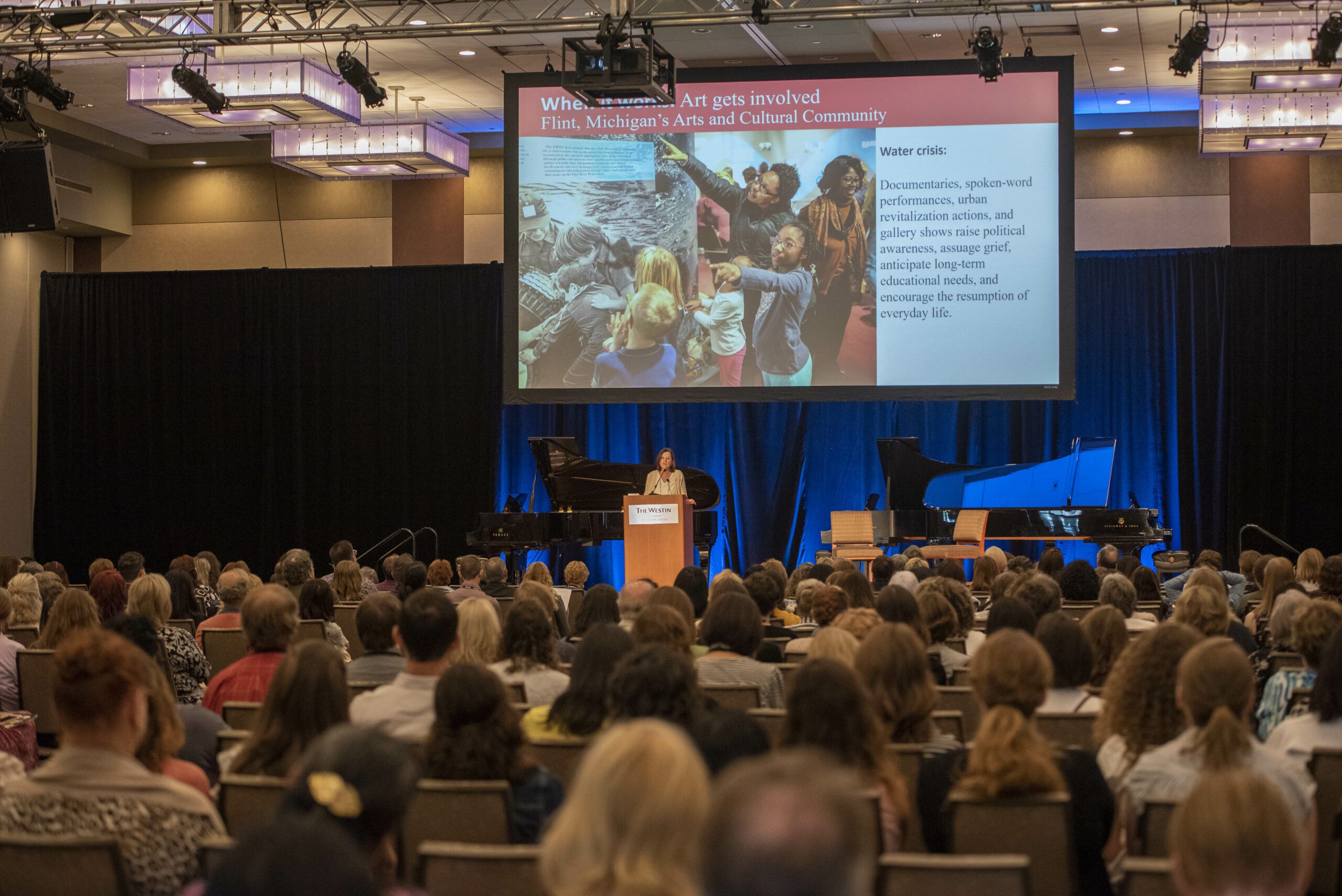 Celebrating 25 years
In-Person Conference July 26-29 | Online Event June 9-11
NCKP 2023: The Piano Conference
Share. Engage. Inspire.
Exhibitors
---
The Frances Clark Center invites you to be an exhibitor at NCKP 2023: The Piano Conference, July 26-29, 2023 at the beautiful Westin Chicago Lombard Hotel in Lombard, Illinois. Join us in reaching more than 700 independent and institutionally affiliated keyboard educators.
We have limited in-person space and will close reservations when exhibit booths and showcases are sold out.
Questions regarding Exhibit Booths, Showcases, Program Book Ads, or College Row should be directed to Sarah Jenkins at nckpsales@francesclarkcenter.org.
---
Exhibit Hall Booths – $999/booth
8′ x 10′ exhibit booth includes
8' Back Drape and 3' Side Drape
(1) 6' Skirted Table
(2) Chairs
(1) Wastebasket
Identification Sign
(4) Registration badges. Additional badges are available for purchase at a discounted rate.
Additional Equipment and Services
Exhibitors must review the exhibitor kit for information on shipping and options for ordering additional equipment and services. Exhibitors in need of HSIA, power, and package handling at their booth must purchase these services from the Westin. Links to the Exhibitor Kit and other forms will be available soon.
---
Exhibitor Showcases – $950/showcase
Showcase Details
Exhibitor showcases are 50-minute presentations of a commercial nature, perfect for the introduction or demonstration of musical products and services that are beneficial to music teachers.
Scheduling Details
Twenty showcases are available for the NCKP 2023 conference. Four showcases will be presented concurrently during showcase hours and will be listed in the Conference Program Book. No other sessions will take place during showcase hours.
Recommendations
For maximum engagement, we encourage exhibitors to utilize giveaways and interactive activities.
---
Additional Advertising Opportunities
Program Book – full color
| Inner Pages | Pricing |
| --- | --- |
| Full Page | $1,750 |
| 1/2 Page (horizontal only) | $850 |
| 1/3 Page | $600 |
| 1/4 Page (vertical only) | $475 |
---
FULL PAGE
Live Area: 8.375″ x 10.875″
Trim Area: .25″
Bleed Area: .25″
1/2 PAGE HORIZONTAL
Live Area: 7.38″ x 4.94″
1/3 PAGE HORIZONTAL
Live Area: 7.38″ x 3.29″
1/3 PAGE VERTICAL
Live Area: 9.87″ x 2.46″
1/4 PAGE VERTICAL
Live Area: 3.69″ x 4.94″
---
Coupon Book – black & white
$175/ad; Dimensions: 8.25″ x 3.25″
---
Educational Institution Opportunities
College Row Package – $149/package
The Frances Clark Center is delighted to invite you to represent your school or keyboard area on College Row at NCKP 2023: The Piano Conference. Your presence on College Row allows you to introduce your institution to more than 700 keyboard educators and pedagogy students. While enjoying concerts, lectures, demonstrations, and workshops presented by leading artists, teachers, researchers, and musicians, NKCP attendees are both motivated and focused on all aspects of keyboard pedagogy. Engage the attention and interest of prospective students, teachers, and supporters in this unique setting.
Package Details
Educational Institution Listing in Program Book
School logo and 30-word description in the Conference Program Book
College Row Table (optional)
Conference registration is not included in College Row packages.